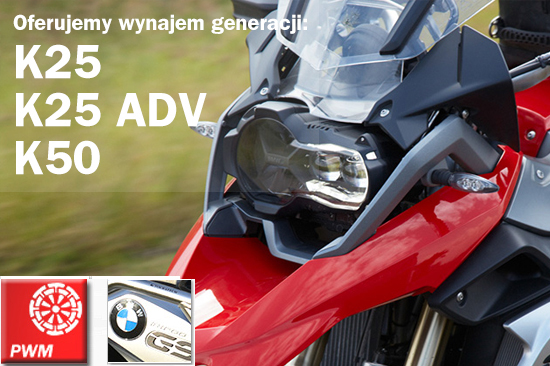 Contact / free time to rent:
+48 506 468 370
+48 504 372 539

biuro@wypozyczalniamotocykli.com

RENTAGE PRICE LIST >>

The BMW R1200GS is a well-equipped, durable travel motorcycle with suspension adapted to both highways and deteriorated surfaces. It has an ABS, an anti-hop coupling, a Telelever fork (no dives) and an ASC system against slipping the rear wheel at acceleration.

An air-cooled boxer engine is an example of flexibility and low fuel consumption (from 4.5 l / 100km).

Security
Few motorcycles are equipped with as many safety systems as the BMW R1200GS. We find here:

- ABS - anti-lock braking system.
- anti-hip coupling - if the gear reduction is too high, it prevents the rear wheel from locking
- ASC regulates grip during acceleration. If necessary, it effectively reduces the slippage (spinning) of the drive wheel. It has possible 3 levels of activity to set with the button on the steering wheel.
- Telelever front suspension is not a classic fork, as in 90% of motorcycles, but a fork on a swingarm with a central damper. This system causes the front not to dive when braking the front brake.


Adventure in the name
The BMW R1200 GS is available at PWM Pomeranian Motorbike Rental since July 2014. The motorbike enjoys a high reputation among loyal customers who value the ability to travel safely in all conditions. The motorcycle comes from Germany and was imported to Poland in 2011. It has excellent traction properties allowing you to take a vacation with a sense of confidence to countries such as Croatia or Bulgaria, where our customers are willingly use the option of renting a medium-term BMW R1200GS.

Motorcycle equipment
In addition to two sets of outfits, fluorescent vests, gloves and knee protectors, the landlord can use additional motorcycle equipment without additional payment. In addition to the navigation and the magnetic bag, the balls include:
- heated steering grips,
- 12V socket,
- raised glass with deflector
- BMW company

The motorcycle is preserved in a state that does not diverge from the original, which makes driving it similar to moving a new motorcycle. Contributing to this is regular servicing, about which detailed entries in our service calendar are posted.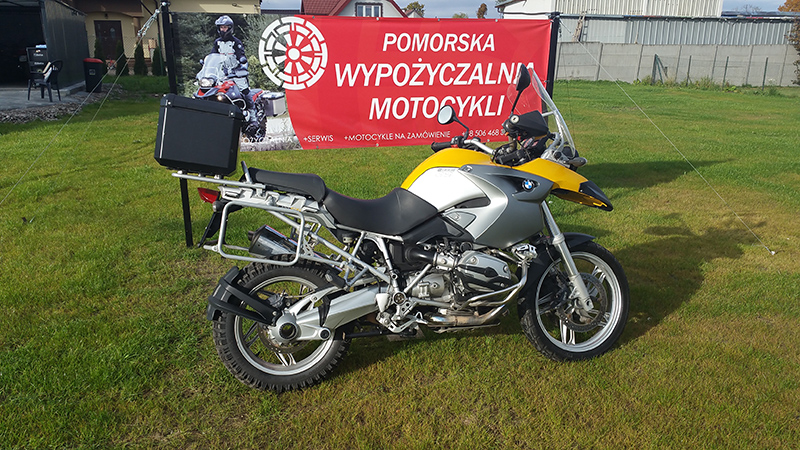 Limitations:
The motorcycle is not recommended for people with a height below 175cm and for drivers who do not have previous motorcycle experience. The machine has higher than eg Harley located center of gravity which requires more attention when maneuvering and in the city.

TECHNICAL DATA BMW R1200GS

ENGINE:
A four-stroke, flat, double-cylinder air / oil boxer with two camshafts, four valves per cylinder, and a central balanced crankshaft.
Cylinder diameter / piston stroke 101 mm / 73 mm
The capacity of 1170 cm3
Rated power 81 kW (110 HP) at 7,750 RPM.
Maximum torque 120 Nm at 6,000 rpm.
Compression ratio 12.0: 1
Blending / motor control Electronic injection in the outlet channel. Digital control system BMS-K with fuel shut-off system and TwinSpark system
Exhaust gas control three-way catalytic converter with closed circuit, compliant with the EU-3 standard

PERFORMANCE / FUEL CONSUMPTION
Top speed Over 200 km / h
Fuel consumption at a constant speed of 90 km / h 4.6 l / 100 km
Fuel consumption at a constant speed of 120 km / h 6.1 l / 100 km
Fuel type Unleaded petrol, octane number 95, automatic knock control system allows the use of gasoline with a minimum octane number LO 91

ELECTRICAL INSTALLATION
Alternator Alternator, three-phase 720 W
Battery type 12 V / 14 Ah, maintenance-free

TRANSMISSION
Dry clutch single disk hydraulically controlled.
6-speed gearbox with toothed wheels with fixed helical gears
Drive drive shaft
SUSPENSION / BRAKES
Frame Two-piece frame (front and rear section), the engine with the gearbox is part of the load-bearing structure

BMW Motorrad Telelever front wheel attachment / suspension, 41 mm fork carrier tube diameter

Fixing / Rear wheel suspension Single-arm swingarm made of aluminum die-cast BMW Motorrad Paralever, progressive shock absorber WAD, fluent hydraulic spring pre-tension adjustment with knob, adjustable damping knob

Stroke suspension front / rear 210 mm / 220 mm
Wheel track 1510 mm
A pivot bolt of 89 mm
The angle of the head of the frame 65.2 °
Spoke wheels crossed
Rim size, front 2.50 x 19 "
Rim size, rear 4.00 x 17 "
Tires, front 110/80 R 19
Tires, rear 150/70 R 17
Brakes, front Two floating discs, diameter 305 mm, fixed four-piston caliper
Brakes, rear One disc, diameter 265 mm, floating two-piston caliper
ABS: integral ABS System BMW Motorrad (off)

DIMENSIONS / WEIGHT
Length 2240 mm
Width (with mirrors) 990 mm
Height (without mirrors) 1525 mm
Seat height, weight without load 890/910 mm
Length of the step arch to the hollow 1960/2000 mm
Weight without load, ready to drive, full fuel tank 256 kg
Dry weight 223 kg
Permissible total weight 475 kg
Permissible load (with standard equipment) 216 kg
The usable fuel tank capacity is 33.0 liters
Fuel reserve Approx. 4.0 liters


The BMW R1200 GS allows you to overcome the longest route safely and comfortably for 2 people. It allows you to do more than 1000 km per day. Fuel tank holds 33 liters in ADV and slightly less in the classic version.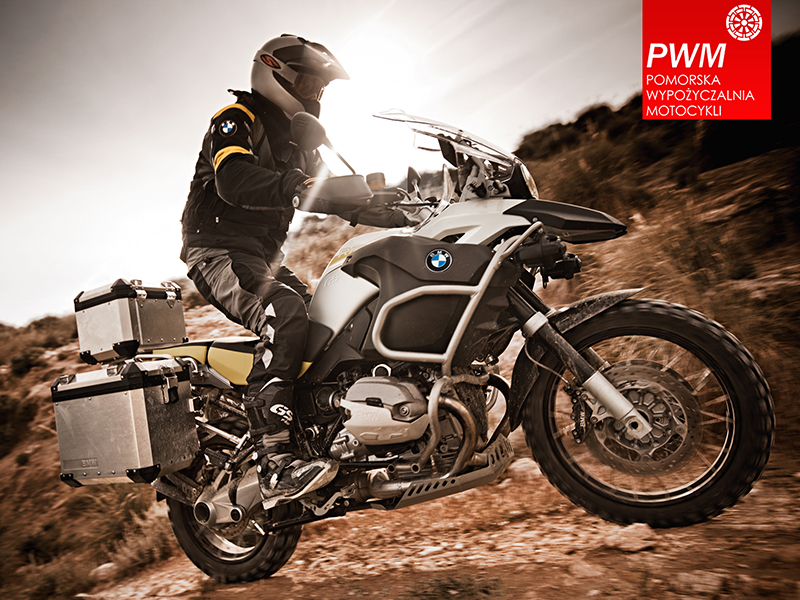 Contact / appointments available for hire:
+48 506 468 370
+ 48 504 372 539
biuro@wypozyczalniamotocykli.com