HOW TO GET TO PWM RENTAL
PWM is located in Łęgowo - 14 km straight from the Old Town in Gdańsk, towards the city of Łódź, 0.5 km behind the national road Pruszcz Gdański No. E91.

0.5 km nex to Pruszcz Gdański in Łęgowo, go straight through 2 intersections and then turn right at the third intersection in Łęgowo to Topolowa Street.

The third intersection is close to a store with a large BINGO logo on the left.
It is also about 100m in front of the large church on the left.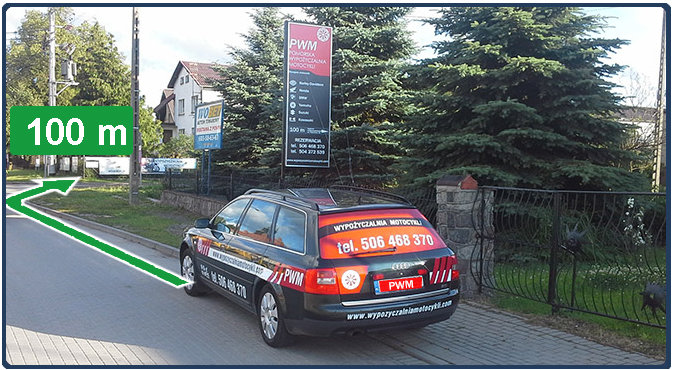 FACEBOOK - LIKE US!

RENTAL AGREEMENT
We offer you many discounts and promotions. Please contact us for more information!
PAYMENT DATA / DEPOSIT
Refundable deposit is:
starting from 500 PLN

Deposit can change if you are unexperienced.
Our account number (IBAN):
PLN
03 1950 0001 2006 0203 6795 0002
Payments in other currency:
EUR
73 1950 0001 2006 0203 6795 0003
USD
46 1950 0001 2006 0203 6795 0004
GBP
19 1950 0001 2006 0203 6795 0005

SWIFT / BIC IDEA BANK SA
IEEAPLP1

Company data
EVOMEDIA MAREK DOWNAR
ul. Słonimskiego 3/7
80-280 Gdańsk

Kod swift IDEA BANK SA:
IEEAPLP1
biuro@wypozyczalniamotocykli.com
HOW TO BOOK
Please choose the address and bike to pick-up

Start and end date of rental period

Your name, surname and phone number

Send this all to: biuro@wypozyczalniamotocykli.com

You will receive confirmation document to your email and the motorycle is waiting for you!
FREE WITH MOTORCYCLE

(while stocks last)
2 helmets, 2 gloves, first aid kit, 2 Gore-tex or leather jackets, 2 motorcycle pants, phone handler (no charging battery), rain coats, no shoes.
OTHER RULES
You should show us your driver's license and identification card. There is no minimal time limit of having your driver's license.
There is no additional fees for clothes, helmets, tires or brakes too much used.
You can rent for days or hours.

You can leave you car in our residence, it will be watched by our cameras.
We can transport your motorcycle to you - please only give an address.
SOCIAL!
FACEBOOK: please search 'Wypozyczalnia motocykli'

-------------------------------------------------------------------------
You can also book our bikes using BikesBooking.com
FAQ
mAC - PRICE LIST / Assistance / Green card for free
FAQ
1. How do I make a payment for a motorcycle reservation?

Payment by bank transfer or cash / card when picking up the motorcycle. Payment is made in advance.

account number (IBAN):
ING Bank Śląski
34 1050 1764 1000 0090 8066 3173
Recipient's name: EVOMEDIA MAREK DOWNAR
Address: ul. Słonimskiego 3/7, 80-280 Gdańsk

Swift IDEA BANK SA code: IEEAPLP1

Once booked and confirmed by payment, the date can be changed free of charge.

2. How soon will you be able to confirm the reservation?

Most reservations are confirmed within 1-2 hours. If confirmation has not been received yet, please contact us.

3. What documents will I need when collecting the motorcycle?

Driving license and ID card.

4. What types of insurance can I get for a rented motorcycle?

All our rates include civil liability insurance. MAC protection can be purchased additionally in accordance with the mAC price list.

5. Do I have the right to go with a rented motorcycle outside of Poland?
Yes. Offer is always individual, depending on countries of your trip.


6. Can I make a reservation for another person?

Making such a reservation is possible. This person's name should be provided in the booking email.

7. How much does it cost to register an additional driver?

100 zloty.

8. Is it possible to deliver the motorcycle to a place, e.g. to the hotel where I am staying?

Yes, the cost is from 1 to 3 PLN per km.

Delivery over further distances is determined individually, the cost can be reduced for rentals over 7 days.

9. Are you using kilometer limits?

EN
Yes, about 300 km per day, all rules are given on our main webpage.
Tags:
Motocykl wynajem , wynajem na motocykl , wynajem na rower , wynająć motocykl , Gdańsk motocykl wynajem , motocykl wynajem Gdańsk