Without reservation you can rent a motorcycle which is free at the moment (usually 3-4 motorcycles are still free). To rent please visit us in our opening times:
9:00 - 18:00, 7 days per week.

Telefony:
+48 506-468-370
+48 504-372-539
+48 534-565-941

Bike (bikes) to rent
Address

to pick-up

(PWM or some other address)
Address to return the bike

(PWM or some other address)

Start and end date of rental period

Your name, surname, e-mail and phone number

Send this all to:

biuro@wypozyczalniamotocykli.com

You will receive confirmation document to your email and after the payment via bank account the motorycle is waiting for you! You can also pay at the place, also in other currency than PLN. No problem!
We will reply as soon as possible, usually in 4h. In reply e-mail you receive Reservation Confirmation Document.
We accept EUR, PLN, GBP, USD

Gift voucher is the best for motorcycle hotheads! To book your voucher just send us to biuro@wypozyczalniamotocykli.com the following information:
- recipient's name and surname
- the address to send gift voucher
- choose price of the voucher fitting to some motorcycle and term of lease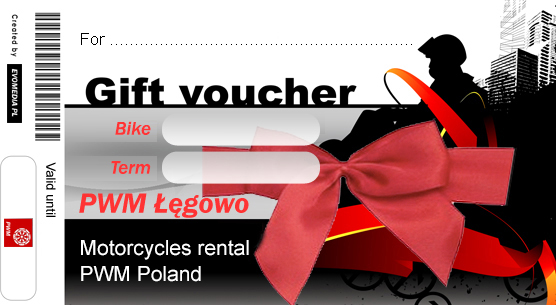 Alquiler de motos en Barcelona Alquiler de motos en Madrid Alquiler de motos en Málaga Alquiler de motos en Mallorca Alquiler de motos en Las Palmas Alquiler de motos en Buenos Aires Alquiler de motos en Tenerife Alquiler de motos en Roma Alquiler de motos en París Alquiler de motos en Londres Alquiler de motos en Lisboa Alquiler de motos en Las Vegas Alquiler de motos en Zagreb Alquiler de motos en Nueva York
Alquiler de motos en Los Angeles Alquiler de motos en Chicago Alquiler de motos en Brasil Alquiler de motos en Marrakech Alquiler de motos en Miami Alquiler de motos en Canadá Alquiler de motos en Sicilia Alquiler de motos en Cerdeña Alquiler de motos en Ibiza Alquiler de motos en Bangkok Alquiler de motos en Corcega
Alquiler de motos en Santorini Alquiler de motos en Sydney Alquiler de motos en Johannesburg Alquiler de motos en Tokio Alquiler de motos en Delhi
Motorbike rentals in Barcelona Motorbike rentals in Madrid Motorbike rentals in Málaga Motorbike rentals in Mallorca Motorbike rentals in Las Palmas
Motorbike rentals in Buenos Aires Motorbike rentals in Tenerife Motorbike rentals in Roma Motorbike rentals in Paris Motorbike rentals in London
Motorbike rentals in Lisboa Motorbike rentals in Las Vegas Motorbike rentals in Zagreb Motorbike rentals in New York Motorbike rentals in Los Angeles
Motorbike rentals in Chicago Motorbike rentals in Brazil Motorbike rentals in Marrakech Motorbike rentals in Miami Motorbike rentals in Canada
Motorbike rentals in Sicily Motorbike rentals in Sardegna Motorbike rentals in Ibiza

Motorbike rentals in Bangkok Motorbike rentals in Corsica Motorbike rentals in Santorini Motorbike rentals in Sydney Motorbike rentals in Johannesburg

Motorbike rentals in Tokio Motorbike rentals in Delhi Location de moto à Barcelone Location de moto à Madrid Location de moto à Málaga Location de moto à Mallorca

Location de moto à Las Palmas Location de moto à Buenos Aires Location de moto à Tenerife Location de moto à Roma Location de moto à Paris Location de moto à London Location de moto à Lisboa Location de moto à Las Vegas Location de moto à Zagreb Location de moto à New York Location de moto à Los Angeles

Location de moto à Chicago Location de moto à Brésil Location de moto à Marrakech Location de moto à Miami Location de moto à Canada Location de moto à Sicily Location de moto à Sardegna Location de moto à Ibiza Location de moto à Bangkok Location de moto à Corsica Location de moto à Santorini Location de moto à Sydney Location de moto à Johannesburg Location de moto à Tokio Location de moto à Delhi Motorrad mieten in Barcelona Motorrad mieten in Madrid Motorrad mieten in Málaga Motorrad mieten in Mallorca Motorrad mieten in Las Palmas Motorrad mieten in Buenos Aires Motorrad mieten in Tenerife Motorrad mieten in Roma Motorrad mieten in Paris Motorrad mieten in London Motorrad mieten in Lisboa Motorrad mieten in Las Vegas Motorrad mieten in Zagreb Motorrad mieten in New York Motorrad mieten in Los Angeles Motorrad mieten in Chicago Motorrad mieten in Brasilien Motorrad mieten in Marrakech Motorrad mieten in Miami Motorrad mieten in Kanada Motorrad mieten in Sicily Motorrad mieten in Sardegna Motorrad mieten in Ibiza Motorrad mieten in Bangkok Motorrad mieten in Corsica Motorrad mieten in Santorini Motorrad mieten in Sydney Motorrad mieten in Johannesburg Motorrad mieten in Tokio Motorrad mieten in Delhi Moto noleggio a Barcellona Moto noleggio a Madrid Moto noleggio a Málaga Moto noleggio a Mallorca Moto noleggio a Las Palmas Moto noleggio a Buenos Aires Moto noleggio a Tenerife Moto noleggio a Roma Moto noleggio a Parigi Moto noleggio a Londra Moto noleggio a Lisboa Moto noleggio a Las Vegas Moto noleggio a Zagreb Moto noleggio a New York Moto noleggio a Los Angeles Moto noleggio a Chicago Moto noleggio a Brasile Moto noleggio a MarrakechMoto noleggio a Miami Moto noleggio a Kanada Moto noleggio a Sicily Moto noleggio a Sardegna Moto noleggio a Ibiza Moto noleggio a Bangkok Moto noleggio a Corsica Moto noleggio a Santorini Moto noleggio a Sydney Moto noleggio a Johannesburg Moto noleggio a Tokio Moto noleggio a Delhi Lloguers de moto a Barcelona Lloguers de moto a Madrid Lloguers de moto a Málaga Lloguers de moto a Mallorca Lloguers de moto a Las Palmas Lloguers de moto a Buenos Aires Lloguers de moto a Tenerife Lloguers de moto a Roma Lloguers de moto a París Lloguers de moto a Londres Lloguers de moto a Lisboa Lloguers de moto a Las Vegas Lloguers de moto a Zagreb Lloguers de moto a nova York Lloguers de moto a Los Angeles Lloguers de moto a Chicago Lloguers de moto a Brasil Lloguers de moto a Marrakech Lloguers de moto a Miami Lloguers de moto a Canadà Lloguers de moto a Sicília Lloguers de moto a Sardana Lloguers de moto a Ibiza Lloguers de moto a Bangkok Lloguers de moto a Còrsega Lloguers de moto a Santorini Lloguers de moto a Sydney Lloguers de moto a Johannesburg Lloguers de moto a Tokio Lloguers de moto a Delhi Aluguer de motas em Barcelona Aluguer de motas em Madrid Aluguer de motas em Málaga Aluguer de motas em Mallorca Aluguer de motas em Las Palmas Aluguer de motas em Buenos Aires Aluguer de motas em Tenerife Aluguer de motas em Roma Aluguer de motas em Paris Aluguer de motas em Londres Aluguer de motas em Lisboa Aluguer de motas em Las Vegas Aluguer de motas em Zagreb Aluguer de motas em nova Iorque Aluguer de motas em Los Angeles Aluguer de motas em Chicago Aluguer de motas em Brasil Aluguer de motas em Marrakech Aluguer de motas em Miami Aluguer de motas em Canadá Aluguer de motas em Sicília Aluguer de motas em Sardenha Aluguer de motas em Ibiza Aluguer de motas em Bangkok Aluguer de motas em Córsega Aluguer de motas em Santorini Aluguer de motas em Sydney Aluguer de motas em Johannesburg Aluguer de motas em Tokio Aluguer de motas em Delhi Motorcykel leje i Barcelona Motorcykel leje i Madrid Motorcykel leje i Málaga Motorcykel leje i Mallorca Motorcykel leje i Las Palmas Motorcykel leje i Buenos Aires Motorcykel leje i Tenerife Motorcykel leje i Roma Motorcykel leje i Paris Motorcykel leje i London Motorcykel leje i Lisboa Motorcykel leje i Las Vegas Motorcykel leje i Zagreb Motorcykel leje i New York Motorcykel leje i Los Angeles Motorcykel leje i Chicago Motorcykel leje i Brasilien Motorcykel leje i Marrakech Motorcykel leje i Miami Motorcykel leje i Canada Motorcykel leje i Sicilien Motorcykel leje i Sardinien Motorcykel leje i Ibiza Motorcykel leje i Bangkok Motorcykel leje i Korsika Motorcykel leje i Santorini Motorcykel leje i Sydney Motorcykel leje i Johannesburg Motorcykel leje i Tokio Motorcykel leje i Delhi Motorcykeluthyrning i Barcelona Motorcykeluthyrning i Madrid Motorcykeluthyrning i Málaga Motorcykeluthyrning i Mallorca Motorcykeluthyrning i Las Palmas Motorcykeluthyrning i Buenos Aires Motorcykeluthyrning i Teneriffa Motorcykeluthyrning i Rom Motorcykeluthyrning i Paris Motorcykeluthyrning i London Motorcykeluthyrning i Lissabon Motorcykeluthyrning i Las Vegas Motorcykeluthyrning i Zagreb Motorcykeluthyrning i New York Motorcykeluthyrning i Los Angeles Motorcykeluthyrning i Chicago Motorcykeluthyrning i Brasilien Motorcykeluthyrning i Marrakech Motorcykeluthyrning i Miami Motorcykeluthyrning i Kanada Motorcykeluthyrning i Sicilien Motorcykeluthyrning i Sardinien Motorcykeluthyrning i Ibiza Motorcykeluthyrning i Bangkok Motorcykeluthyrning i Korsika Motorcykeluthyrning i Santorini Motorcykeluthyrning i Sydney Motorcykeluthyrning i Johannesburg Motorcykeluthyrning i Tokio Motorcykeluthyrning i Delhi Motorfiets-verhuur in Barcelona Motorfiets-verhuur in Madrid Motorfiets-verhuur in Málaga Motorfiets-verhuur in Mallorca Motorfiets-verhuur in Las Palmas Motorfiets-verhuur in Buenos Aires Motorfiets-verhuur in Tenerife Motorfiets-verhuur in Rome Motorfiets-verhuur in Parijs Motorfiets-verhuur in Londen Motorfiets-verhuur in Lissabon Motorfiets-verhuur in Las Vegas Motorfiets-verhuur in Zagreb Motorfiets-verhuur in New York Motorfiets-verhuur in Los Angeles Motorfiets-verhuur in Chicago Motorfiets-verhuur in Brazilië Motorfiets-verhuur in Marrakech Motorfiets-verhuur in Miami Motorfiets-verhuur in Canada Motorfiets-verhuur in Sicilië Motorfiets-verhuur in Sardinië
Motorfiets-verhuur in Ibiza Motorfiets-verhuur in Bangkok Motorfiets-verhuur in Corsica Motorfiets-verhuur in Santorini Motorfiets-verhuur in Sydney Motorfiets-verhuur in Johannesburg Motorfiets-verhuur in Tokio Motorfiets-verhuur in Delhi Motorsykkelutleie i Barcelona Motorsykkelutleie i Madrid Motorsykkelutleie i Málaga Motorsykkelutleie i Mallorca Motorsykkelutleie i Las Palmas Motorsykkelutleie i Buenos Aires Motorsykkelutleie i Tenerife Motorsykkelutleie i Roma Motorsykkelutleie i Paris Motorsykkelutleie i London
Motorsykkelutleie i Lisboa Motorsykkelutleie i Las Vegas Motorsykkelutleie i Zagreb Motorsykkelutleie i New York Motorsykkelutleie i Los Angeles Motorsykkelutleie i Chicago
Motorsykkelutleie i Brasil Motorsykkelutleie i Marrakech Motorsykkelutleie i Miami Motorsykkelutleie i Canada Motorsykkelutleie i Sicilia Motorsykkelutleie i Sardinia Motorsykkelutleie i Ibiza Motorsykkelutleie i Bangkok Motorsykkelutleie i Korsika Motorsykkelutleie i Santorini Motorsykkelutleie i Sydney Motorsykkelutleie i Johannesburg
Motorsykkelutleie i Tokio Motorsykkelutleie i Delhi Прокат мотоциклов в Барселона Прокат мотоциклов в Мадрид Прокат мотоциклов в Málaga Прокат мотоциклов в Майорка
Прокат мотоциклов в Las Palmas Прокат мотоциклов в Буэнос-Айрес Прокат мотоциклов в Тенерифе Прокат мотоциклов в Рим Прокат мотоциклов в Париж Прокат мотоциклов в Лондон Прокат мотоциклов в Лиссабон Прокат мотоциклов в Лас-Вегас Прокат мотоциклов в Загреб Прокат мотоциклов в Нью-Йорк Прокат мотоциклов в Los Angeles Прокат мотоциклов в Чикаго Прокат мотоциклов в Бразилия Прокат мотоциклов в Марракеш Прокат мотоциклов в Майами Прокат мотоциклов в Канада
Прокат мотоциклов в Сицилия Прокат мотоциклов в Сардиния Прокат мотоциклов в Ibiza Прокат мотоциклов в Бангкок Прокат мотоциклов в Корсика Прокат мотоциклов в Санторини Прокат мотоциклов в Sydney Прокат мотоциклов в Johannesburg Прокат мотоциклов в Tokio Прокат мотоциклов в Delhi تأجير الدراجات النارية في برشلونة تأجير الدراجات النارية في مدريد تأجير الدراجات النارية في Málaga تأجير الدراجات النارية في مايوركا تأجير الدراجات النارية في Las Palmas تأجير الدراجات النارية في بوينس آيرس تأجير الدراجات النارية في تينيريفي تأجير الدراجات النارية في روما
تأجير الدراجات النارية في باريس تأجير الدراجات النارية في لندن تأجير الدراجات النارية في لشبونة تأجير الدراجات النارية في لاس فيغاس تأجير الدراجات النارية في زغرب تأجير الدراجات النارية في نيويورك تأجير الدراجات النارية في Los Angeles
تأجير الدراجات النارية في شيكاغو تأجير الدراجات النارية في البرازيل تأجير الدراجات النارية في مراكش تأجير الدراجات النارية في ميامي تأجير الدراجات النارية في كندا تأجير الدراجات النارية في صقلية تأجير الدراجات النارية في سردينيا
تأجير الدراجات النارية في إيبيزا تأجير الدراجات النارية في بانكوك تأجير الدراجات النارية في كورسيكا تأجير الدراجات النارية في سانتوريني تأجير الدراجات النارية في Sydney تأجير الدراجات النارية في Johannesburg تأجير الدراجات النارية في Tokio تأجير الدراجات النارية في Delhi השכרת אופנועים ב ברצלונה השכרת אופנועים ב מדריד השכרת אופנועים ב Málaga השכרת אופנועים ב מיורקה השכרת אופנועים ב Las Palmas השכרת אופנועים ב בואנוס איירס השכרת אופנועים ב טנריף השכרת אופנועים ב רומא השכרת אופנועים ב פריז השכרת אופנועים ב לונדון השכרת אופנועים ב ליסבון השכרת אופנועים ב לאס וגאס השכרת אופנועים ב זאגרב
השכרת אופנועים ב ניו יורק השכרת אופנועים ב Los Angeles השכרת אופנועים ב שיקגו השכרת אופנועים ב ברזיל השכרת אופנועים ב מרקש השכרת אופנועים ב מיאמי השכרת אופנועים ב קנדה
השכרת אופנועים ב סיציליה השכרת אופנועים ב סרדיניה השכרת אופנועים ב איביזה השכרת אופנועים ב בנגקוק השכרת אופנועים ב קורסיקה השכרת אופנועים ב סנטוריני השכרת אופנועים ב Sydney
השכרת אופנועים ב Johannesburg השכרת אופנועים ב Tokio השכרת אופנועים ב Delhi バイクレンタル中 バルセロナ バイクレンタル中 マドリード バイクレンタル中 Málaga バイクレンタル中 マヨルカ島 バイクレンタル中 Las Palmas バイクレンタル中 ブエノスアイレス バイクレンタル中 テネリフェ島 バイクレンタル中 ローマ バイクレンタル中 パリ バイクレンタル中 ロンドン バイクレンタル中 リスボン バイクレンタル中 ラスベガス バイクレンタル中 ザグレブ バイクレンタル中 ニューヨーク バイクレンタル中 Los Angeles バイクレンタル中 シカゴ バイクレンタル中 ブラジル バイクレンタル中 マラケシュ バイクレンタル中 マイアミ バイクレンタル中 カナダ バイクレンタル中 シチリア島 バイクレンタル中 サルディニア バイクレンタル中 イビサ バイクレンタル中 バンコク バイクレンタル中 コルシカ島 バイクレンタル中 サントリーニ バイクレンタル中 Sydney バイクレンタル中 Johannesburg バイクレンタル中 Tokio バイクレンタル中 Delhi 摩托车出租: 巴塞罗那 摩托车出租: 马德里 摩托车出租: Málaga 摩托车出租: 马洛卡 摩托车出租: Las Palmas 摩托车出租: 布宜诺斯艾利斯 摩托车出租: 特内里费 摩托车出租: 罗马 摩托车出租: 巴黎 摩托车出租: 伦敦 摩托车出租: 里斯本 摩托车出租: 拉斯维加斯 摩托车出租: 萨格勒布 摩托车出租: 纽约 摩托车出租: Los Angeles 摩托车出租: 芝加哥 摩托车出租: 巴西 摩托车出租: 马拉喀什 摩托车出租: 迈阿密 摩托车出租: 加拿大 摩托车出租: 西西里岛 摩托车出租: 撒丁岛 摩托车出租: 伊维萨 摩托车出租: 曼谷 摩托车出租: 科西嘉岛 摩托车出租: 圣托里尼 摩托车出租: Sydney 摩托车出租: Johannesburg 摩托车出租: Tokio 摩托车出租: Delhi

.
.
.
.
.
.
.
.
.
.
.
.
.
.
.
.
.
.
.
.
.
.
.
.
.
.
.
.
.